How the Intersection of Architecture and Mobility Will Shape the Cities of Tomorrow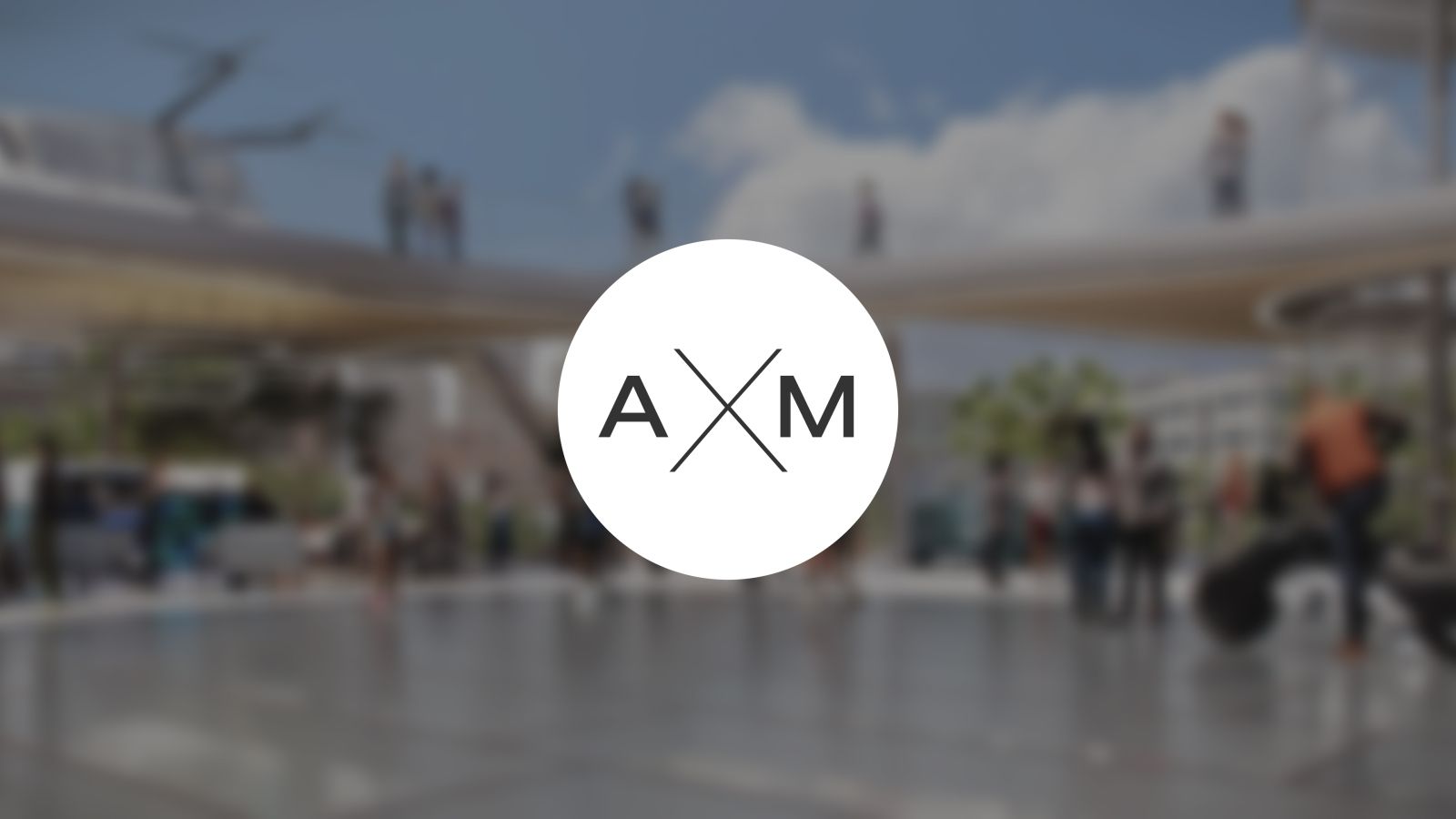 Editor's Note: This blog post was written in partnership with Gensler as part of an ongoing collaboration between BMW Designworks and Gensler about the future of cities and mobility.
See Architecture X Mobility for more details.
Global urbanization is increasing, but so are the challenges that cities face. With 55 percent of today's global population currently living in cities and nearly 70 percent projected to be urban dwellers by 2050, the importance of cities is only growing. Already, they're responsible for 80 percent of global GDP. Yet issues tied to COVID, climate change, affordability, and inequality threaten the social and economic dynamism of urban environments.
Mobility issues also loom over the future of cities, and the rapid adoption rate of electric vehicles (EVs) represents a significant disruption to urban infrastructure. Worldwide, the number of EVs sold is projected to top 10.5 million this year, representing an increase of four million vehicles from 2021. The growing number of EVs will shift the urban landscape, resulting in a need for more charging stations and adjacent smart technologies that can help manage traffic flows, land usage, and environmental concerns. As cities become smarter and more electric, there will be some building types—such as gas stations—that become obsolete, and others—such as parking garages—that can be transformed into mixed use and multimodal centers. How can we repurpose these outdated real estate assets to better serve the needs of urban residents?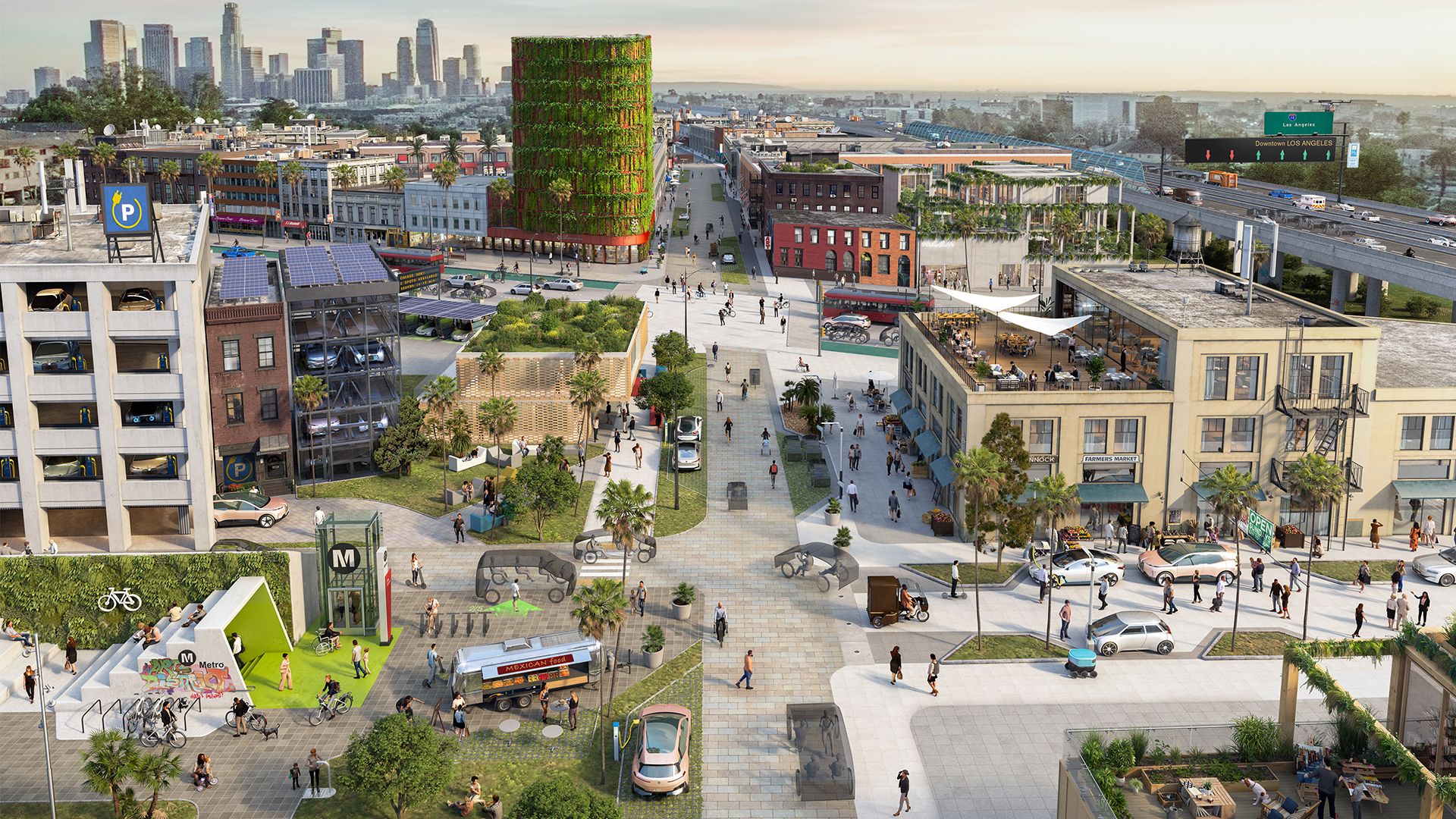 New Ideas for Urban Mobility
It's clear that cities around the world need new ideas and fresh thinking to improve life and prepare for the challenges of today and tomorrow. Recognizing a shared interest in solving for these complex urban mobility challenges, BMW Designworks and Gensler came together to explore a new range of design ideas for urban living in a project called Architecture X Mobility. For us, the unresolved questions around cities and the rise of electrified vehicles served as a catalyst to imagine how the intersection of architecture and mobility might address some of the issues at hand.
The partnership began by looking at the mobility and density challenges—as well as opportunities—in three world-class cities: Los Angeles, Munich, and Shanghai. That exercise led us to focus our thinking around working anywhere, hacking mobility infrastructure, and understanding how flexible space and time create fluidity. Based on that foundation, we then devised three areas of exploration: Nth Space, Blurred Boundaries, and Fluid Nodes.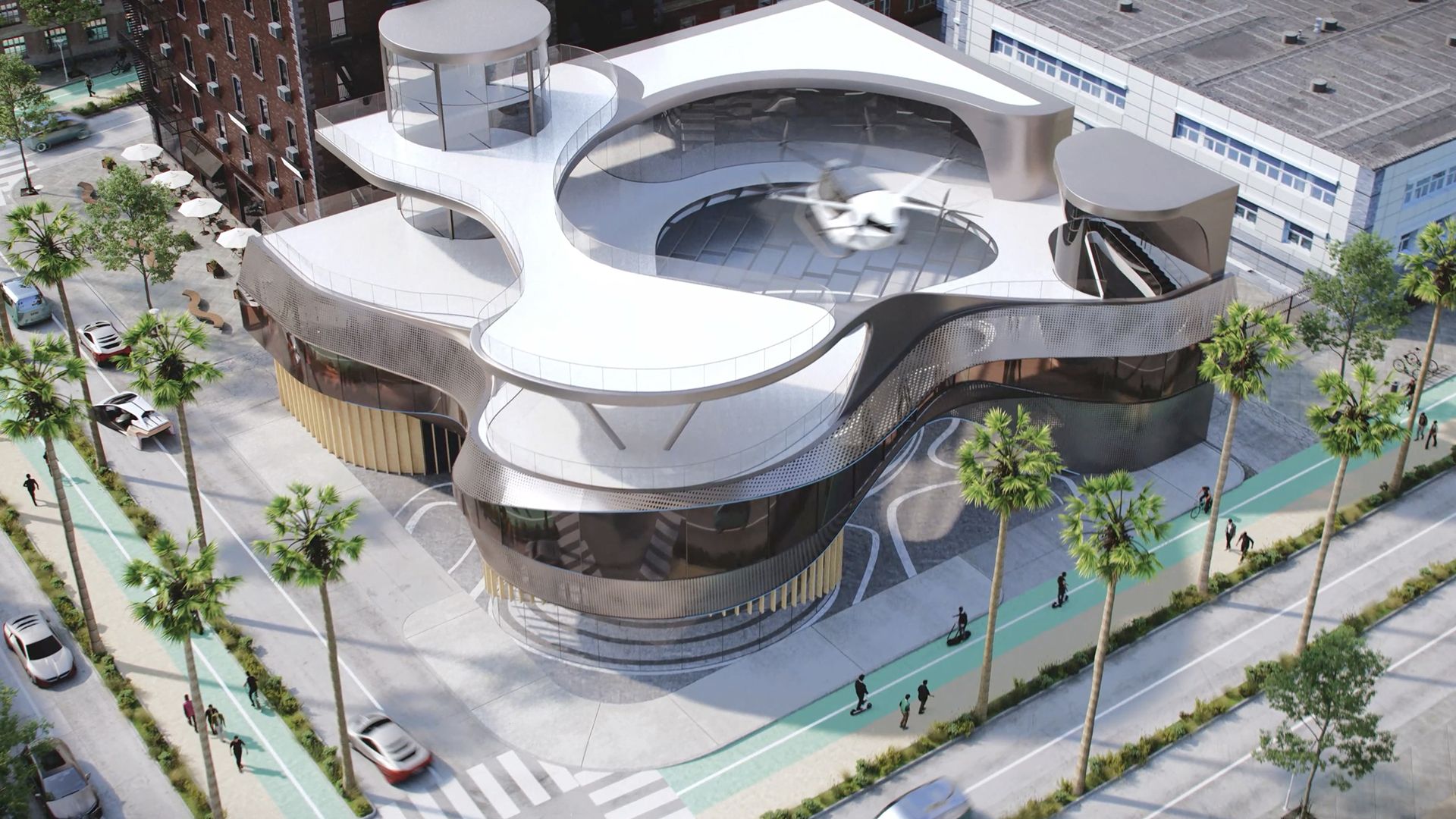 The Future of Gas Stations
Nth Space is a concept that investigates how destinations that are neither homes nor offices but instead satellite spaces can decentralize cities, give back time, and enable a range of new behaviors. This line of inquiry proved pivotal regarding the question of gas stations.
According to the NACS, the association for fuel retailers , there are 145,000 gas stations in the U.S., equaling more than 3.6 billion square feet of real estate. The abundance of gas stations, along with their strategic positioning on prized street corners and recognizability as fixtures in the urban fabric, makes them ideal testing grounds for Nth Spaces. All of these stations as currently designed risk being rendered obsolete due to electric vehicle charging. We believe these stations can be reimagined as vibrant places that support socializing, collaborating, or recharging both the human body and the vehicle. These new types of "community centers" can bring people together, support new ways of working, and offer connections points that are more than just the pass-through buildings that gas stations are today. By repurposing these structures rather than tearing them down and building new, we can also contribute to a city's sustainable goals.
Gas stations are also distributed across the urban landscape. This means they can serve as critical pieces of the infrastructure needed for decentralization. As such, they can enable the 20-minute city, where all of one's daily needs, from employment to shopping to recreation, are quickly and easily accessible by non-vehicular mobility options. This approach to mobility systems can enable fully electric, de-centralized cities that cut our dependencies on fossil fuels, reduce greenhouse-gas emissions, and map to the way we live in our post-connected world.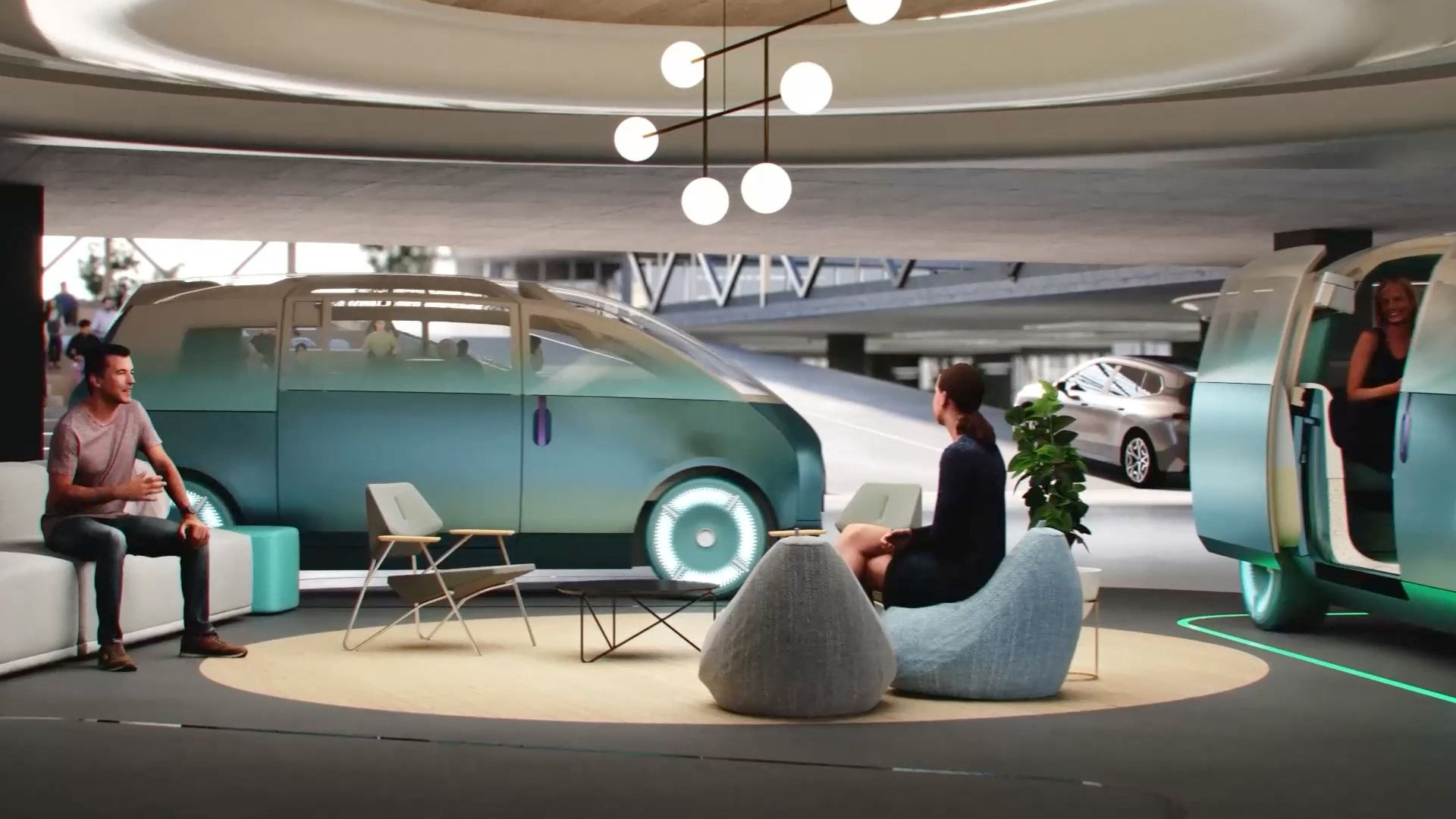 Hybrid Spaces
Our Blurred Boundaries concept examines how the rise of electric vehicles can enable semi-permeable and mobile spaces that open new possibilities for infrastructure, commuting habits, wellbeing, and connections between people. When taken to its logical extension, Blurred Boundaries helps us to understand that not only will vehicles further integrate into our homes, workplaces, and communal spaces, but also they will potentially become part of those environments as undiscovered or 3rd Spaces
We investigated a range of hybridized possibilities across multiple scales, from compact spaces that straddle the line between fixed and mobile to large adaptive modules that offer a sense of both permanence and flexibility. These new urban systems will allow cities and spaces to reassemble into infinite states in a more adaptive way that supports the blurring of lifestyles.
Connected Cities and Smart Technology
Fluid Nodes asks us to imagine how tomorrow's reactive city might be driven by and organized around an adaptable and scalable operating system. With the smart technologies that municipalities are now installing, we can potentially talk to cities the way we talk to devices in our homes. Residents could interface with cities via an app on their mobile phone, and cities could then respond by reconfiguring services and infrastructure to meet people's shifting needs.
As part of our efforts, we explored several potential applications for these Fluid Nodes. Location-based requests are one such application. For example, citizens could speak to the operating system to reserve park space for a gathering. Infrastructure such as pavilions and restrooms could be made mobile and then be repositioned based on the needs of the event. On-the-go services that cater to individuals are another application. With such a service, neighborhoods could put in a request to have a mobile farmer's market show up at a specific location and time. Dynamic infrastructure is yet another possibility and could, for example, allow pedestrians to ask the city if their route is the safest and most efficient.

As we move deeper into our exploration of how architecture, mobility, and experiences can redefine the ways people connect to each other and the urban realm, we grow increasingly confident that we can create a dynamic future for our urban environments and a better quality of life for the people who inhabit them.
We're exploring this complex intersection of cities and mobility through a broad range of ideas at Architecture X Mobility, a new microsite developed by BMW Designworks + Gensler. It is both a place to see in greater detail how we're imagining the future of cities and a platform for you to provide us with your own input and ideas. With your help, we can write the future together and create smarter, better, and more human cities.
Take a deeper dive into the ideas around the future of cities and mobility at Architecture X Mobility, by BMW Designworks + Gensler