MATERIA: A Garden of Possibilities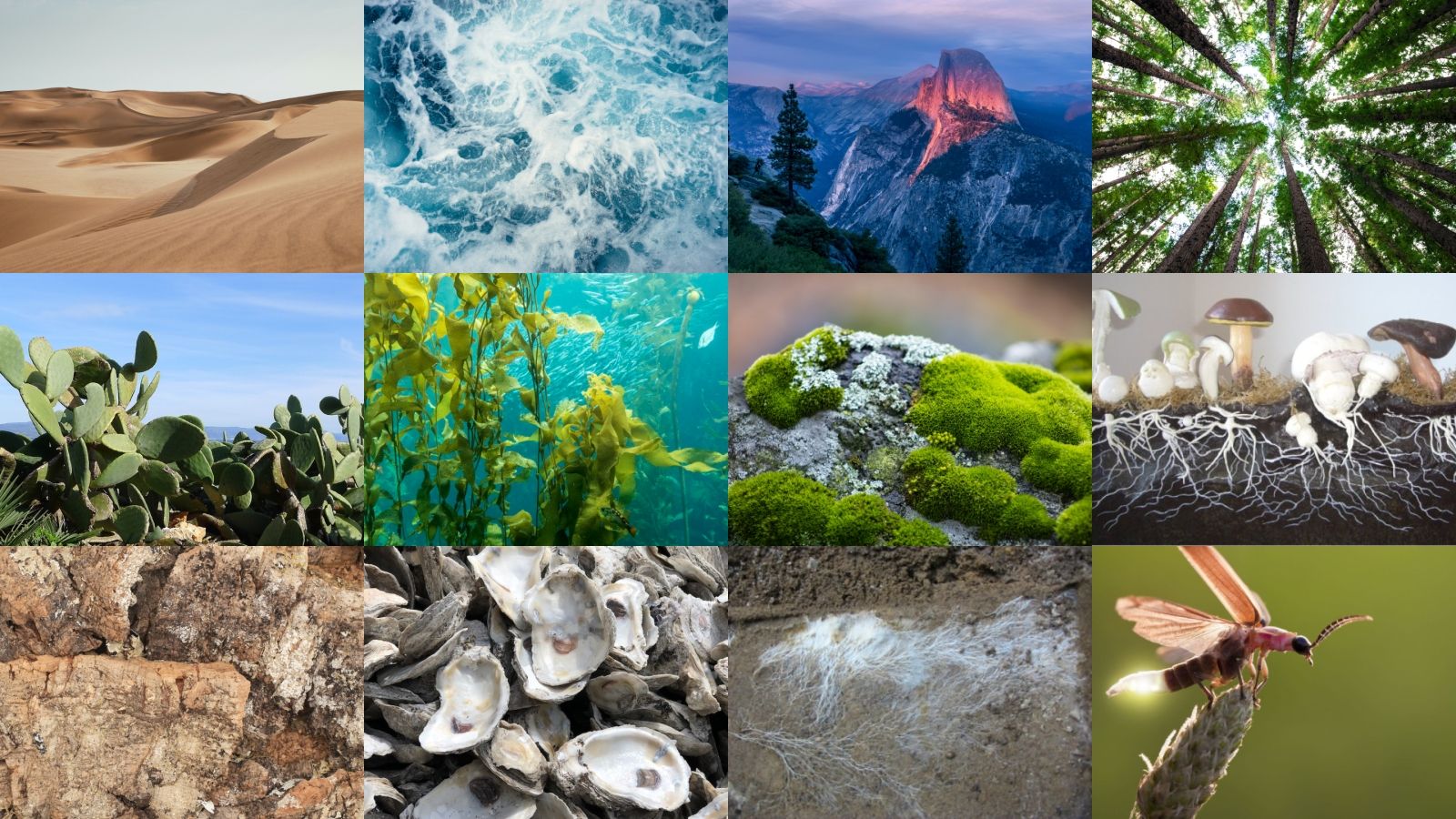 The new BMW iX is one of the most sustainable BMW's produced to date. Not only is it fully electric, but it brings circular thinking into the production process.
BMW MATERIA: Garden of Possibilities celebrates this notion and the range of the iX, that in Los Angeles connects to various biomes; from ocean to forest to desert. Through BMW MATERIA, we showcase these biomes: living organisms and sustainable material developments derived from nature. We believe in protecting our planet and are inspired by the potential it presents to our future.
Presented as an immersive exhibit at [SPACE] by BMW, the MATERIA design team was inspired and challenged to find examples presented in nature of regenerative material possibilities and to explore potential future applications in our products.

The name "MATERIA" is latin for material and references science and its connection to nature. Inspired by nature's innovation, the installation is part lab, part garden; in process, never static. Displays include bioluminescent algae — a playful and beautiful nod to electrification in nature; hemp wood which grows 100 times faster than – and 20% stronger than – hardwoods like oak; chitosan, a biopolymer obtained from the hard exoskeleton of shellfish that is produced in nature 400 times more than plastic is consumed, and can biodegrade within two weeks; mycelium, a root network of mushrooms, that could become a sustainable form of packing material, and more.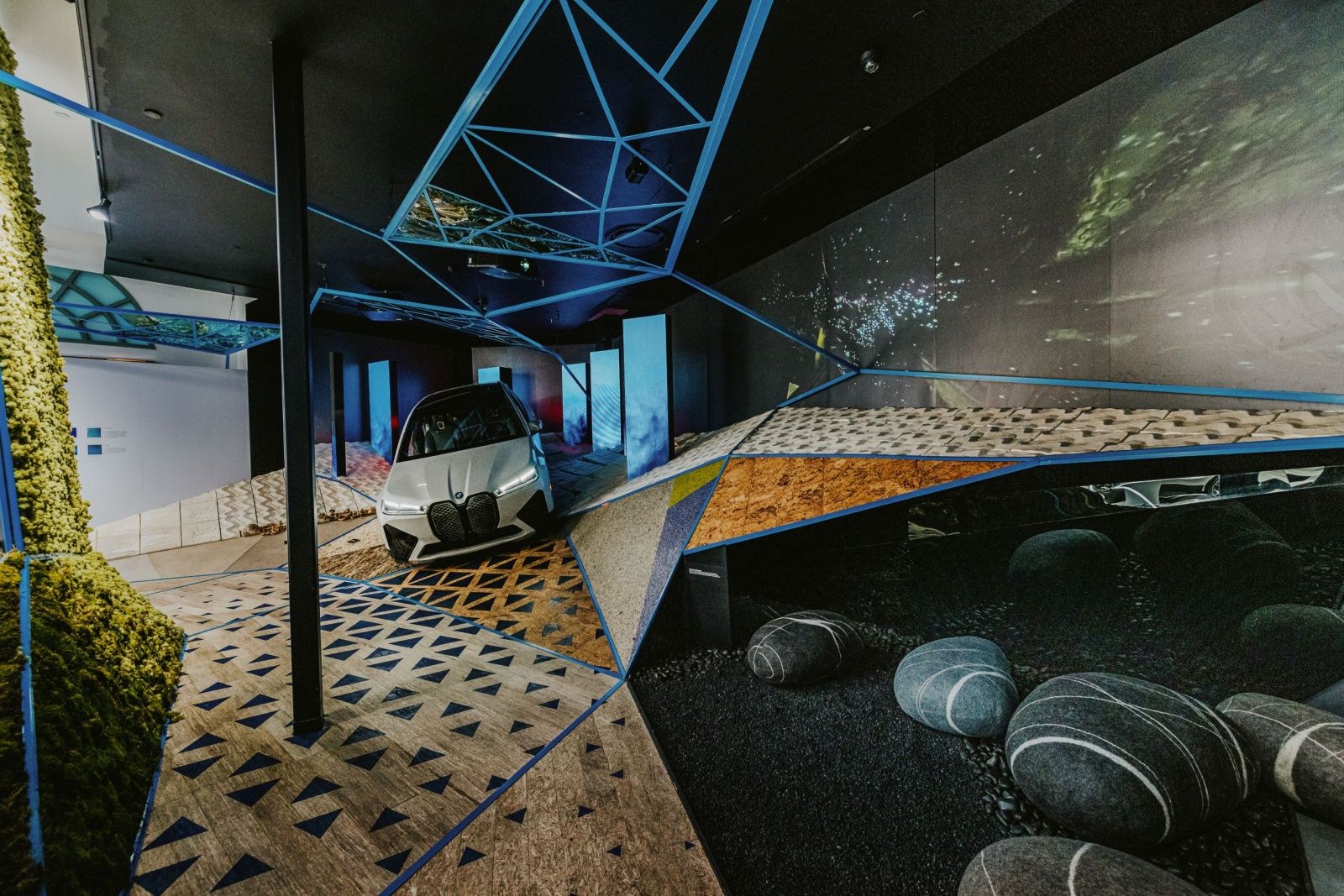 Central to the Designworks' creative process around MATERIA is the idea that to design using biomaterials is a shared process between designer and nature. Rather than forcing a material to comply, you have to allow the living organisms to grow and thrive for the design to be whole, making the process a collaboration with nature itself.
Inspiring examples of biomes on display include:

Mycelium – The root network of mushrooms supports a range of material applications such as packaging foams, furniture, leather alternatives, even bacon.
Hemp fiber – Derived from cannabis plants, and among the strongest and most durable natural textile fibers. Hemp is used to make apparel, rope, canvas, skin care products, building materials, paper, and food.
Hemp wood – Combining hemp pulp fibers using protein based bonding agents, this wood substitute is 100 times faster to grow and 20 percent stronger than hard woods like Oak.
Mosses – Contributing to healthy air and offsetting more total carbon than all the trees in the world. Mosses also absorb other pollutants which is why they are used in air pollution control projects in urban areas around the world.

Spirulina – A natural blue pigment extracted from spirulina algae is a natural alternative to petroleum-based synthetic dyes. In addition to pigment, spirulina is described as the single most nutritious food on the planet.
Algae – This diverse group of photosynthetic aquatic organisms ranges from micro unicellular forms to macro algae, such as kelp. Algae has exciting industrial applications including bioplastics, pigments, wellness, even electricity!
Dinoflagellates – Tiny marine microalgae that photosynthesize during the day and produce a natural glow at night, causing the surface of the ocean to sparkle through physical agitation.
Chitosan – Obtained from the hard exoskeleton of shellfish as well as insects. Every year, 100 billion tons of chitin are produced in nature – 400 times more than plastic consumption. Chitosan has a range of applications including bioplastics.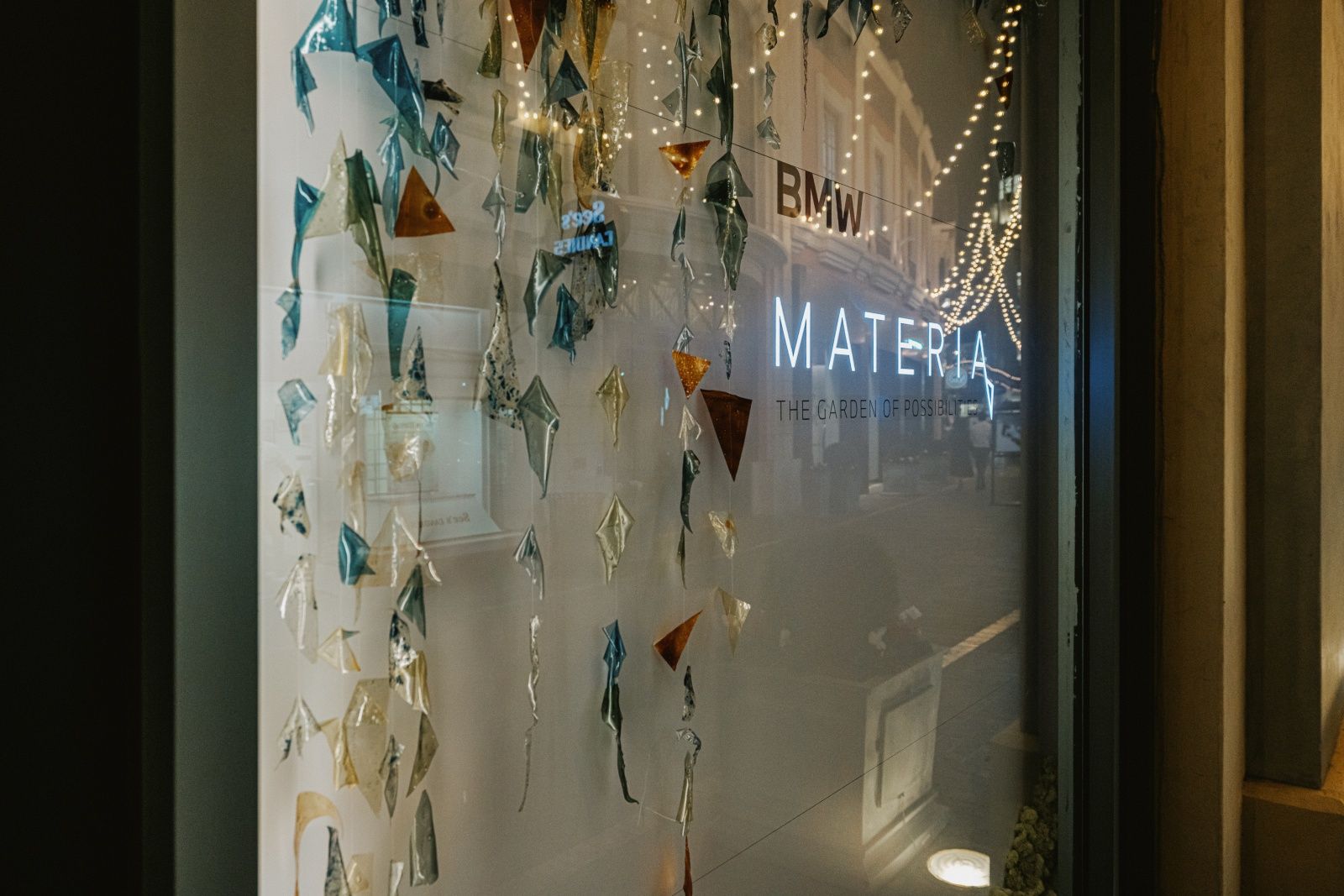 The MATERIA exhibit runs from October 30th through November 15th, 2021 at [SPACE] by BMW, the brand's experience venue at The Grove in Los Angeles (189 The Grove Dr, Los Angeles, CA 90036).